The Bluetones, Cardigans, Heavy Stereo and Fluffy.
I would later come to lots of these shows, but this year I still did not live in London and only came to the touring show with some friends.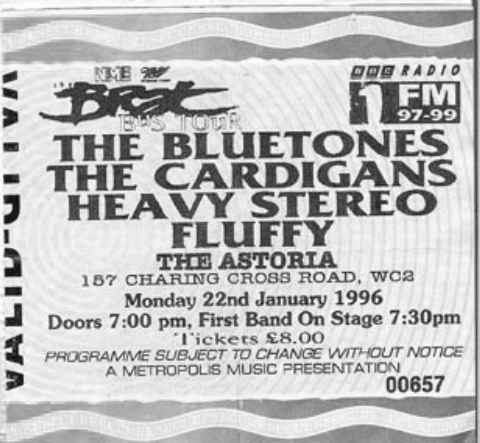 I was at this one, more from this year in Paul's gig history for 1996. Part of every gig I was at from '87 to 2023. A natural step from my Best Gigs Ever blog post. Yeah I know it's a bit geeky, let's let that go though, I'm enjoying remembering these things.
Mon Jan 22 1996
Other gigs at Astoria I attended are Foo Fighters ('05), The Tears (2005), Goldie Lookin' Chain ('04), Suede ('03), Belle & Sebastian ('03), The Darkness homecoming gig (2003), Blur ('03), Athlete (2003), The Darkness ('03), The Charlatans ('02), Andrew WK (2002), And You Will Know Us By The Trail Of Dead (2002), Travis ('02), Jimmy Eat World ('02), The Hives (2001), Neds Atomic Dustbin (2001), Gene (2001), Outkast (2001), Doves ('01), And You Will Know Us By The Trail Of Dead ('01), Queens Of The Stone Age (2000), Bloodhound Gang ('00), Six By Seven ('00), Elastica ('00), The Beta Band (2000), Super Furry Animals ('99), Baby Bird ('98), NME Brats Tour ('98), Travis (1998), NME Brats Spiritualized (1998), Strangelove (1997), Space ('97), Brat Bus tour ('97), Placebo ('97), NME Brats gig with Pavement ('97), Super Furry Animals ('97), The Lightning Seeds (1997), Longpigs (1996), Revolting Cocks (1991), Under Neath What ('90)
Was right by Tottenham Court Road tube, now demolished in the name of "cross rail"