Paul Clarke's Blog (Pauly's Soapbox)
Incredible as in not believable, not quite. UK firms told set up in EU to avoid trade disruption. It's obviously a dreadful situation, these businesses now have trade barriers that weren't there pre brexit, and are struggling. Yes moving their business into Europe, or setting up another European business will sort that. Have they really been advised this is the best way to do it by an official though? That is the amazing bit. If it is true, it's surely one rogue agent giving honest advice, and not following the government line.
I am wondering if I'll have a problem with my new running shoes. Everything is held up at the moment because of coronavirus, just lots of people not working so things are going a bit slower. The company (On Running) have hinted that there will be delays and import duties for some customers though. I am selfishly hoping that means euro customers who've bought shoes from the UK, and not that I have unknowingly bought shoes from Europe that now have import duty.
My shoes aside, this whole situation is a bit of a mess. Who knew?
Sun Jan 24 2021...
This week 10 years ago
15 years ago
20 years ago
25 years ago
30 years ago
We had snow yesterday afternoon. I didn't notice if falling as I was busy DIYing, but when the boys came back from grandpa's house I was lured outside to be hit with a snowball. There was barely enough, but they were pleased with it. It seems like thing two hasn't had any snow experience at all, can that be right? It's all gone again now as I write this, it's quite heavy rain right now actually, but there were still remnants of ice and frost this morning, so I did not go out. I did my 5km on the treadmill, for some reason it is a lot harder and I got a proper sweat on. Good thing about the treadmill is you can stop whenever you like and you have everything at hand, so I slowed down a couple of times to drink my coffee. The bad thing about the treadmill is you can stop whenever you like, so I'm more likely to take a break than to push on until I get home.
We did talk about going out at lunchtime today, but deep down we knew it was going to rain and it wasn't happening. Clare is going for another coronavirus test, she is having one every week as she's mixing with so many people in the new job. The boys have been gaming this morning, then screaming at me when I asked them to stop for lunch, then they think they will be gaming all afternoon while Clare is out / revising. If I don't get a sincere apology from them both I'm keeping the power off for the rest of the day. I'm in a bad mood today. Only a week left of dryanuary, apropos of nothing.
I see was at a Kula Shaker gig today in 1997, I liked them a lot at the time. I have that Revolting Cocks gig as being today, though the ticket clearly says not. I guess it must have been postponed. The internet agrees with me on the date, though maybe we all get it from the same dodgy source. I have a video of this gig, I have posted a clip of it lots of times.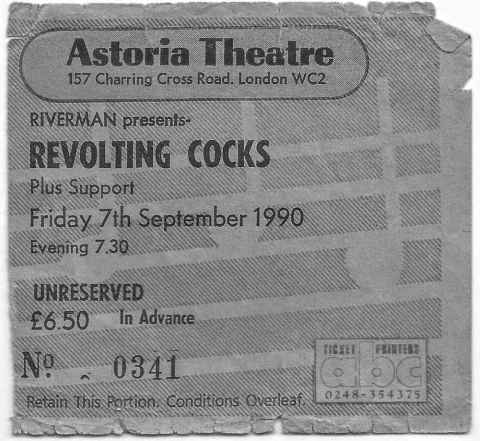 | Country | cases | deaths |
| --- | --- | --- |
| USA | 25197977 | 420291 |
| Brazil | 8699814 | 214228 |
| India | 10626200 | 153067 |
| Mexico | 1688944 | 144371 |
| UK | 3543646 | 94580 |
| Italy | 2428221 | 84202 |
| France | 2987965 | 72218 |
| Russia | 3655839 | 67832 |
| Iran | 1354547 | 57150 |
| Spain | 2560587 | 55041 |
Sun Jan 24 2021...
Feel I've already done this day, as it's also the twenty-fifth anniversary of an NME Brats gig, so have I? Ah, I did, and it's yesterday that was the anniversary, I'm a day out. Today is possibly the twenty-fifth anniversary of an NME Brats gig I was at, it's th twenty-fourth anniversary of a Pavement gig and the twenty-third anniversary of a Travis gig, both at the Astoria.
Did a 10km run in the morning, as I had a little more time to play with. Ran to Hythe, to the railway, then back along Princes Parade to Sandgate. I had planned to go to Orchard Lane on the way back but the queue was huge, so gave up.
Where did runuary day twenty-two go? Looks like I mentioned it in advance, but not after I did it. I did manage to run, with the boys on their bikes. They waited for me at the kiosk on the sea front while I did 1km towards Hythe, then they rode and I ran to Sandgate, then I did an extra 1km the other end, so I was able to meet them at the village store to buy sweets. So got my 5km in, then we walked back, and they were only five minutes late back for school.
DIY all afternoon, I put the IKEA remote controlled blinds up in thing two's room, and then also replaced the lighting in there too. That small bedroom was the only room that still had LightwaveRF lighting, so now it has a normal switch again, and IKEA remote control and smart colour changing lights. I broke the dry liner when trying to screw the light switch back in, but luckily I had a spare. I think the last time I had to worry about a dry liner was when I was putting the LightwaveRF lighting in in this room about ten years before.
We all watched The Goonies in the evening , then Taskmaster, then two episodes of Spiral. Only one more to go!
Sun Jan 24 2021...
🚶 5175 steps 66.3kg 16.7% fat
🐹 09:10 Treadmill Running 28'29
127 uses of the treadmill at £2.60 per go, or £13.20 per month. Including all the times Clare has been on it, this comes to about £2.41 per go... Including all the times the boys have (they went on it every day during 110 days of school lockdown), this comes to about £1.39 per use...
🚶 2151 steps 64.2kg 17.0% fat
🏃 09:06 Shepway Running 10.4K, 4'35/K
🚶 10:19 Shepway Walking 10'57
Work have talked about this "wellbeing hour" before, today it is official. I'm trying to work out how to fit it in so I can go running in the daylight. Take the boys out on their bikes in their lunch hour and run as they cycle? Leave them sat outside a sweetshop while I get an extra kilometre in and then pick them up on the way back? It never works out well running while they ride but it's worth another go. I get a two hour lunch today and have time to make their lunch, eat mine, run outside, and maybe put some washing in too.
Today is going better at work than yesterday. I figured out this morning yesterday's task was unpossible, so now I have let that go I can move on.
We watched TWO HOURS of TV yesterday, a special Thursday treat. An episode of Spiral, and then Death In Paradise. This series is not very good, shame, I don't know what has changed. The new junior cop is annoying, but not as annoying as last series' junior cop. The lead actor is the worst of the four so far too.
Clare was still up at 5:30 this morning and I'm still not allowed to talk about her training.
Twenty-five years ago today I was at a great gig, NME Brat Bus tour with Bluetones, Heavy Stereo, Fluffy, and The Cardigans, lovely. Did I go to some related signing thing at HMV or Tower Records that day too? Also did I drive up? I half remember picking someone up in Guildford on the way. I absolutely loved all these bands at the time, so a good lineup. Did I have an inkling then I might be working for NME later this year? I don't think so at this point, it all happened quite quickly over the summer.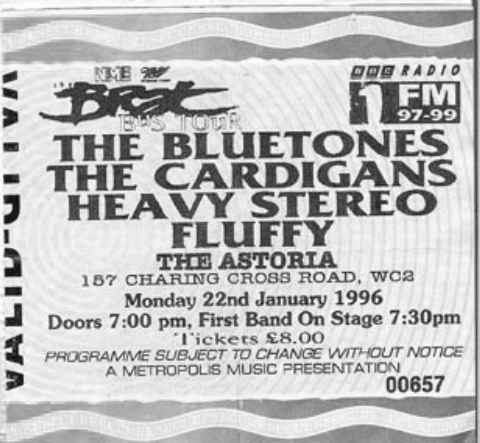 Fri Jan 22 2021...
🚶 10993 steps 66.5kg 18.5% fat
🏃 12:27 Shepway Running 5.3K, 4'25/K
🚶 12:55 Shepway Walking 24'20
Paul Clarke's blog - I work and live in Hythe, Kent. Wed to Clare and father to 2, I am a full stack web engineer, + I do javascript / nodejs, some ruby, other languages ect ect. I like pubbing, parkrun, restaurants, home-automation + other diy stuff, history, family tree stuff, TV, squirrels, pirates, lego, + TIME TRAVEL.