Paul Clarke's Blog (Pauly's Soapbox)
You know what, I'm starting to think that Boris Johnson did know about these parties all along!
Insiders who attended events at Downing Street during lockdown have told the BBC how staff crowded together and sat on each other's laps and how party debris was left out overnight.

For the first time, insiders who were at some of the events have told BBC Panorama in detail what they saw.

They describe arriving for work the morning after a get-together to find bottles lying around parts of the building, bins overflowing with rubbish and empties left on the table.

They also tell of events with dozens of staff crowded together, and parties going so late that, on occasion, some ended up staying in Downing Street all night.

And they say staff mocked others who tried to stop what was going on.
This at the time where no-one was allowed to meet up with anyone else. No, socialising at work was not exempt.
I seem to have got out of going to London again this week. There is a need for someone to be up at 5am to monitor something going live, so I volunteered for that. And then realised that means I can't really get to London as well! I was going to go in early this week. Firstly because I could, because Clare is at home this week, and so we don't need to worry about thing two's breakfast club and so on. Secondly because if I go early I can avoid paying for parking. But now I don't need to go in anyway. And Friday is pay day and then next week is a double bank holiday short week. We're getting there...
I'm at about 93% in my running challenge.
Coronavirus weekly death graph for USA + Brazil + India + Russia + UK
Tue May 24 2022...
This week 10 years ago
15 years ago
🚶 9907 steps ❤️ 48 bpm 67.7kg 20.9% fat
🏃 12:12 Shepway Running 6.1K, 5'06/K
He's only gone and got ambushed by another party, that didn't happen and he wasn't at!
If you don't follow the links will that make any sense? https://www.itv.com/news/2022-05-23/exclusive-pm-pictured-drinking-at-downing-street-party-during-lockdown - short version of it is liar turns out to have lied again. This time he seems to have been enabled by the Met who seem to have accepted his version that he wasn't at the party rather than the evidence of the pictures. I bet there are more pictures too1.
The main thing here is that it shows he lied to parliament about it, so it's not even appropriate to say "it was just a few drinks, there are more important issues, let's move on". There were not more important issues at the time when no-one else was allowed to meet up like this with friends and family.
And what of this meeting with Sue Gray about her report? The meeting that didn't happen, ah if it did happen it was definitely instigated by her, no way did we ask for a meeting to discuss the contents of her report into partygate. Daily Mail says "She's playing politics here", they put it in big letters on the front page, Sue is definitely lying and Boris is our man. They have retracted this now, but only on the website where no-one will see it. Constant lies.
Coronavirus weekly death graph for USA + Brazil + India + Russia + UK
1. Definitely leaked by Dominic Cummings
Mon May 23 2022...
🚶 8680 steps ❤️ 51 bpm 62.9kg 16.4% fat
🐹 08:32 Treadmill Running 15'53 3.1K, 5'12/K
🐹 07:25 Treadmill Running 11'39 2.1K, 5'30/K
178 treadmill uses at £1.85 per go, or £8.05 /month. Including all the times Clare has been on it, this comes to about £1.76 per go... Including all the times the boys have (they went on it every day during 110 days of the 2020 school lockdown), this comes to about £1.15 per use...
Clearly a busy week, not many updates. Work crazy busy but all gone well. I got confirmation of my bonus and payrise, sshhh don't tell Clare.
Then Mum and Dad arrived for the weekend, and despite their various health issues they worked so hard in the garden! Garden now looking like this, with room for the boys to play football. We have taken as much as we can to the tip (about eight bags I think), and will continue cutting down stuff when the birds in the bush there have fledged.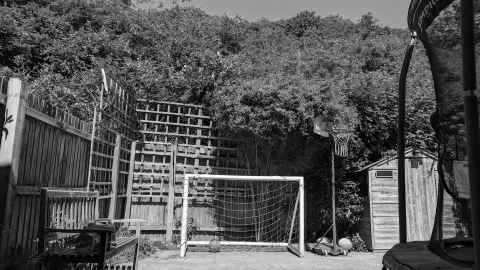 We went to Folkestone Harbour Arm in the lovely weather and I got a bit sunburnt. Boys played mini golf, and we all had a lovely day.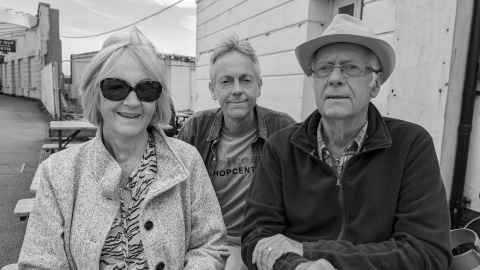 I did my best parkrun of the year before that, which including running there and running back gave me nearly enough kilometres for the weekend. I've slowed right down this weekend, after last weekend of running 21km in one day, but I think I'm still on track.
Saturday night Clare was out with her family while we stayed in and ordered a takeaway. I thought I'd try folkestoneeats.co.uk as we wanted a curry and I wanted to support a local thing. We went with Cheriton Balti, and it took a long time to confirm, pending, pending, pending... then rejected. Sorry we can't get in contact with Cheriton Balti. So half an hour later I've migrated to just-eat.co.uk because I know it works1 and I struggled to find a curry that looked good. I flipped and flopped and thought "isn't this expensive these days?". Every one I looked at seemed to be more expensive than the last. Mum and Dad both wanted just the one dish the same one they always have, I wanted to try something a bit different. In the end I went with "A Taste Of Kathmandu" and was disappointed. Mine was all a bit bland and Mum didn't like hers really. Dad said his meat biriani was good. So bit of a local curry double disappointment.
Dhansak, Vegetable 9.95
2x Papadums, Plain 1.70
Pilau Rice 3.50
Garlic Rice 4.25
Lamb Biryani 13.95
Daal Panchamela, Side Dish 5.50
Kalo Daal, Side Dish 5.50
Navaratna Curry, Side Dish 5.50
I've been to the Inn Doors today so I'm going to have posted these pictures in the wrong order and will fix that later. We went for a walk to Sandgate through the woods, then to the shop for icecreams, then to the Inn Doors. Clare and the boys sat with me for a while, then they came back and I carried on with some friends. We have made plans to go to Crabble Mill Beer Festival next weekend I think. Me and the friends, not Clare and the boys. One friend I spoke to to discuss this was actually in Brugges today. I wish I was in Brugges. I must continue planning my August holiday trip when it comes to pay day. The other friend I mentioned it too tells me he has ramped up his running and he's going to do parkrun in a couple of weeks. Sounding like quite a social Summer.
Missed a gig anniversary yesterday, is that really WASP thirty-three years ago today? Doesn't time fly?
Coronavirus weekly death graph for USA + Brazil + India + Russia + UK
1. Not sure to be fair if that is Cheriton Balti who is at fault or folkestoneeats but I'm not in the mood to go back and find out now
Sun May 22 2022...
🚶 10914 steps ❤️ 53 bpm 62.9kg 16.4% fat
Paul Clarke's weblog - I live in Hythe, Kent. Married to Clare + father to 2, I'm a full-stack web engineer, and I do javascript / nodejs, some ruby, other languages etc. I like pubbing, parkrun, restaurants, home automation and other diy stuff, history, tree stuff, TV, squirrels, pirates, lego, + TIME TRAVEL.