Paul Clarke's Blog (Pauly's Soapbox)
31° today, is that not even hotter than the last two days? Too hot to go very far, and too hot to do much work in the house. I have been trying to clear out the boys' wardrobe in the spare room, sort all the school clothes in there into "ready to wear for this term", "put away until bigger", and "chuck this out it's about five sizes too small why have we still got a room full of this?" piles, and then load some of it back into the wardrobe.
As I say too hot to go out really, we did not go out yesterday either. Today at least we went round the block, a bit of a walk on the seafront and back to the shop for ice lollies. The beach is busy again today, less so than yesterday. It's hotter but there is a slight haze out there.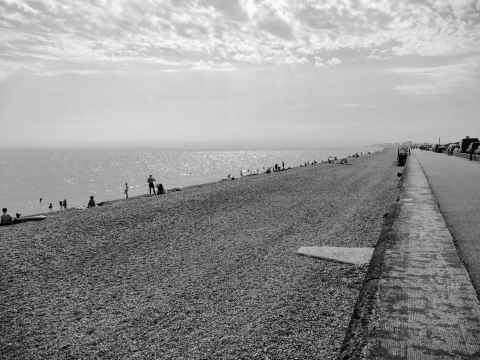 I also did some DIY electrics today, the light in the bathroom is playing up again. It's one of the only lights in the house that I have not actually replaced, so it shows my DIY is not as bad as it might be.
Started reading The Memoirs of Sherlock Holmes with thing one a few days ago, and we finished the first story today. He was dead against it at first, but by the end he loved the story. We'll read one more together then I'll let him run at it on his own. For this reason I'm putting it on my own furlough reading list, below! I'm still reading Kate Atkinson and will be keen to read the next one too, though I have a couple of other birthday gifts I will read first.
| Author | Book | Thoughts |
| --- | --- | --- |
| Ian Rankin | Westwind | Dated thriller, shame. |
| Ian Rankin | Doors Open | Really good crime caper in Edinburgh but with no Rebus. |
| Suzanne Collins | The Hunger Games | Borrowed from the children, very good. |
| Suzanne Collins | Catching Fire | Hunger Games part 2, read this even quicker, a bit darker. |
| Suzanne Collins | Mockingjay | Hunger Games part 3, joyless and grim. Very 2020... |
| Karen McManus | One Of Us Is Lying | Another one liberated from the children's bookshelf. A Breakfast Club whodunnit, dying to be a film, not at all suitable for a ten year old... |
| Robin Paige | Death at Glamis Castle | Edwardian era mystery written by Americans. I read one of these before. Quite atmospheric, though a little twee. Sort of romance / crime. Written in accents, with plenty of "of the time" attitudes. |
| Jed Rubenfield | The Interpretation of Murder | A charity shop find, one you always see, have had it kicking around a long time. Historical crime fiction again set in New York 1909, featuring Sigmund Freud and Carl Jung. Great, but complicated and fairly unlikely! |
| Muriel Spark | Loitering With Intent | Branching out a little this time, it's not even a crime. |
| Julie Wassmer | Murder on the Pilgrims Way | Going back to the familiar now. Fairly gentle and local crime. Forgot I had this one from when we met the author in Waterstones. Mostly predictable and cosy but I did not get the actual end murderer correct. |
| Reginald Hill | Blood Sympathy | Even more familiar, have read this before, but keen to revisit this crime series. Very enjoyable. |
| Robert Webb | Come Again | Time travel action rom-com, not very good, feels like two unrelated stories in one with no resolution. |
| Reginald Hill | Born Guilty | Joe Sixsmith again, hoping I enjoy all of this series as much as the first one. Dated and a little complicated but lots of fun. |
| William Golding | Lord Of The Flies | Like I'm doing GCSE English! I had not read this before but we had it in the house. |
| George Orwell | The Road To Wigan Pier | Might be a bit bleak but again I already had this one in the house as part of a George Orwell box set. I took a break from this to read my new books. |
| Bill Bryson | Shakespeare | Something else we had in, a short read but brilliant. We know almost nothing about Shakespeare. |
| Kate Atkinson | Case Histories | Birthday present, have seen these Jackson Brodie stories on TV and liked it a lot. This story is awesome but horribly sad in parts. I think sometimes murder can be sad though. |
| Kate Atkinson | One Good Turn | Another birthday one, Jackson Brodie book two, set in Edinburgh. Loving it so far. |
| Arthur Conan Doyle | The Memoirs of Sherlock Holmes | Read before, but reading again with thing one. |
Clare has a "time off in lieu" day tomorrow because of working at the weekend, so we're off to Ashford for some reason. I think it's to top up thing one's school supplies. Three weeks tomorrow they'll be back at school! This summer holiday has been a con, a bit of a shame for them. Usually it's stretching out ahead of your forever, at least for a bit, but not this year. The holiday is basically the same as the three months before it. We will try and fit in a few things to make it fun for them before they go back.
I have moved my second redundancy consultation from mid-afternoon tomorrow to first thing in the morning. Don't think there's anything to say at this one it's just a formality. I don't even have to confirm that I really want to take voluntary redundancy at this stage.
Poor that the government is trying to distract us from bad handling of coronavirus by shouting at dinghies crossing the channel. The mishandling of PPE contracts is at the very least shockingly incompetent, if not actually stinkingly corrupt.
| Country | cases | deaths |
| --- | --- | --- |
| USA | 5151595 | 165083 |
| Brazil | 3013369 | 100543 |
| Mexico | 469407 | 51311 |
| UK | 309763 | 46566 |
| India | 2152020 | 43453 |
| Italy | 250103 | 35203 |
| France | 197921 | 30324 |
| Spain | 361442 | 28503 |
| Peru | 471012 | 20844 |
| Iran | 324692 | 18264 |
Mon Aug 10 2020...
This week 10 years ago
15 years ago
20 years ago
At some point recently the Nintendo Switch has stopped connecting to the TV over HDMI. The boys can't be sure when it last worked... The HDMI lead is OK as I just used it to connect a raspberry pi to the TV, but when I plug it back into the Nintendo Switch cradle, no communication. I will have to see if I can get another cradle for the switch. Luckily the device can still be played handheld, though there's some issue with the controllers when played that way, some glitchy communication issue there too. They can just about make it work for now. It's been a brilliant console, they've had a lot of fun from it (we've only had it just over a year) but it has had its problems. I think I would take a chance on buying another one for them, when my boat comes in.
Aargh it's £130 for an official replacement dock, can I risk a cheaper alternative. I'd best check the power supply etc first, make sure I'm replacing the right bit.
It was actually a bit of a treat to hear "I just got kicked out of my game, it's broken!" and it not be about the wifi.
Sun Aug 09 2020...
Trying to get to the bottom of my home internet issues (commonly referred to as the WIFI but it's really a bigger issue than that) I bought a new ruter. Things seem to be marginally better right now but it could be just coincidence, or that I've physically moved things around the house. Fortnite is downloading a new update, I'm on the internets, and the boys are watching IPlayer all at the same time, and no-one is screaming.
Replacing the router and rebooting everything has made my Google Home home automation mostly start working again. Still got some small issues with grouping of lights, but getting there.
Man alive it is hot again, though only 28°... I think the boys would like to play in the paddling pool again, they had a whale of a time out there yesterday.
I think the heat might have made our internets worse. We're using 4g, so we are affected by the number of other customers using the same mast at the same time. This hot weather has attracted hundreds of people to the beach, and so they're all connected to the same mobile mast as me.
Clare is working today, I'm achieving relatively little. I tried to do housework and ironing but it's too hot.
| Country | cases | deaths |
| --- | --- | --- |
| USA | 5095524 | 164094 |
| Brazil | 2967064 | 99702 |
| Mexico | 462690 | 50517 |
| UK | 309005 | 46511 |
| India | 2086864 | 42578 |
| Italy | 249756 | 35190 |
| France | 197921 | 30324 |
| Spain | 361442 | 28503 |
| Peru | 463875 | 20649 |
| Iran | 322567 | 18132 |
Sun Aug 09 2020...
Got a result from Dyson, they have sent a replacement for the main body of our vacuum cleaner. I just had to transfer the battery and the attachments, but the main bit with all the motor and electronics etc is now new and working great. So you're ok to buy a Dyson again now.
Even better than that though, the lid of our kitchen bin broke (I swear it is the boys being too heavy handed with it but they deny all knowledge) so I looked to see if I could buy just a replacement lid, or if I'd need to replace the whole bin. The Brabantia website gave me a little form to fill out, and BANG the replacement lid is free! There's a lifetime warranty with these bins. I bought this bin nearly ten years ago, when we were in the flat, but no matter, a replacement is on its way. This is amazing, good work Brabantia.
Good grief it's 30° again today. We did some good exercising in the heat yesterday, I did a reasonable 5k round Sandgate and back, and then we went for a walk too. We planned to climb Castle Hill, but they seem to have changed the access road to it. There was a no entry sign, so we couldn't figure out how to get started on it. Instead we climbed Dover Hill. Hey look see, there are three hills there (there is even talk of a Folkestone "three peaks challenge") and that will be why Three Hills sports centre is called that! I've climbed two of the hills during lockdown (they are very small and it only takes about fifteen minutes) I should tick off the final one shouldn't I.
After we thought we'd treat ourself to a pub garden. We tried the Red Cow at first, but they are not allowing children in at all. So back to the Fountain, who were. Gigiversaries for today, twenty-one years ago today I was at Suede, twenty years ago at the Cuban Boys, and nineteen years ago at Avalanches.
Speaking of anniversaries, it is our wedding anniversary this week. we just tried to book a restaurant, but because it's on one of the "eat out to help out" fifty percent off days, they're not taking bookings, it's first come first served, and last week it was absolutely manic. So we might give up on the actual day. I had agreed to another "jolly boys' outing" before I realised the date.
| Country | cases | deaths |
| --- | --- | --- |
| USA | 5032278 | 162804 |
| Brazil | 2917562 | 98644 |
| Mexico | 456100 | 49698 |
| UK | 308134 | 46413 |
| India | 2025409 | 41638 |
| Italy | 249204 | 35187 |
| France | 195633 | 30312 |
| Spain | 356935 | 28500 |
| Peru | 455409 | 20424 |
| Iran | 320117 | 17976 |
Sat Aug 08 2020...
🚶 10672 steps 64.3kg 15.1% fat
🐹 10:41 Treadmill Running 12'17
🏃 10:57 Shepway Running 5.0K, 4'37/K
🚶 14:26 Shepway Walking 8'23
🚶 16:57 Shepway Walking 18'40
113 treadmill uses at £2.92 per go, or £16.50 per month. Including all the times Clare has used it, this probably comes to about £2.68 per use... Including all the times the kids have (they went on it every day during 110 days of school lockdown), this comes to approx £1.48 per use...
We had our big day out yesterd, The Inn Doors went on tour, to Dymchurch and New Romney. The Hidden Treasure was great again, so we stayed there for quite a while drinking the Coppernob session ale, mostly in the garden. Then on to The Smugglers in New Romney, another micropub, where we all had Old Dairy Copper Top, which I think was a better beer. From there back to a Shepherd Neame somewhere, also in the garden, and from there back to the Red Lion in Hythe. A lovely day out, followed by a walk back from Hythe to clear my head a bit.
We all got a lovely gift of some Inn Doors facemasks.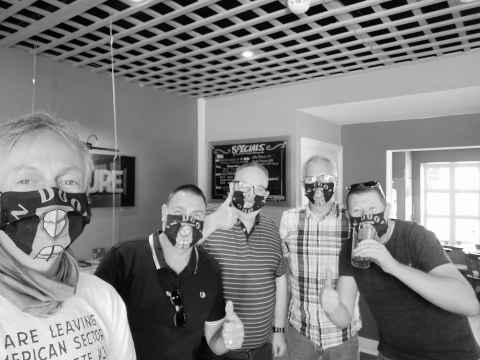 Thu Aug 06 2020...
My chilli subscription started up again. This is one of the things I canned when we went to reduced hours reduced pay at work. To be honest I probably meant to pause it for another couple of months, but I'm pleased it is here. I got The Sauceror tangy blueberry hot sauce, Hopt chipotle chocolate EKG stout sauce, some Woolf's Kitchen tamarind ketchup, and some chilli roasted corn. The chocolate stout one sounded like it might not be vegan, but they all are.
Also just had a call with work, they're surprised I want to take redundancy and am I sure I have all the info I need. I think I do.
| Country | cases | deaths |
| --- | --- | --- |
| USA | 4918420 | 160290 |
| Brazil | 2808076 | 96096 |
| Mexico | 443813 | 48012 |
| UK | 306293 | 46299 |
| India | 1906613 | 39820 |
| Italy | 248419 | 35171 |
| France | 192334 | 30296 |
| Spain | 349894 | 28498 |
| Peru | 439890 | 20007 |
| Iran | 314786 | 17617 |
Thu Aug 06 2020...
🚶 11311 steps 65.2kg 15.2% fat
Paul Clarke's weblog - I live and work in Hythe in Kent. Married to Clare and father to two, I'm a full-stack web engineer, and I do javascript / nodejs, some ruby, other languages ect ect. I like pubbing, running, eating, home-automation + other diy jiggery-pokery, history, genealogy, Television, squirrels, pirates, lego, + TIME TRAVEL.