Paul Clarke's Blog (Pauly's Soapbox)
Happy Birthday Dad!
Seems some primary schools are going back today, but not ours. Our year six goes back next week, and only for two days a week. Our year two does not have an estimate for going back yet. They're both definitely ready to go back, they actually want to, though it might be a shock when they experience the new regime. Sounds like it will be a bit weird, lessons will be different, break times will be different too.
I'm not ready to go back yet, which is good, as there is no hint of me going anywhere just yet. I'm trying to o useful things while I'm off, I cleaned the shower and descaled the coffee machine today, and have made our regular Monday penne arrabiata. It's not really a replacement for full time work though.
Popex still has not set the internet alight, I will likely just shut it down again before I got back to work. I have tweaked the price changing rules today as the lines on the graphs were looking a bit flat to me, basically the expensive shares kept going up and the cheaper ones kept going down.
Joe Wicks workout was very hard today. I did it on my own, as the boys are going to do it later with Clare when she gets in from work.
It's a lovely day again, 21° so I will drag them out on their bikes in a bit (it is lunchtime now).
I did a 10k run yesterday, even though it was very hot out. I got a calendar reminder that it should have been the Folkestone 10k, so I doubled my normal run. I ran to Sandgate, up the hill, down the hill, and round Hythe. The breeze was in my face as I ran back along Princes Parade, but it was very welcome. I still have a little pain in my foot, I figured it out though - I must have got a stone stuck in the huge grips of my running shoes and I ran for a while with a stone pressing in which gave me a bruise. Apart from that my feet also felt a bit stiff when I got up this morning, so no run today, will rest it.
The news is not about coronavirus today, but about America being in turmoil. There are protests outside the Whitehouse, and Donald Trump has been moved to a secure bunker, hmm sounds familiar. He's also declared all the anti-fascists are his enemy. That's not a good look.
| Country | cases | deaths |
| --- | --- | --- |
| USA | 1837170 | 106195 |
| Brazil | 514849 | 29314 |
| Russia | 405843 | 4693 |
| Spain | 286509 | 27127 |
| UK | 274762 | 38489 |
| Italy | 232997 | 33415 |
| India | 190609 | 5408 |
| France | 188882 | 28802 |
| Germany | 183494 | 8605 |
| Peru | 164476 | 4506 |
10k: Ten km, about six miles in old money. Sometimes talking about 10,000 steps though, an arbitrary daily step-count target.
Mon Jun 01 2020...
This week 10 years ago
15 years ago
20 years ago
25 years ago
15.9% fat
🚶 14:30 Shepway Walking 35'43
🚶 16322 steps
🏃 13:30 Shepway Running 10.1K, 5'05/K
Here read this intro. Couch To 5k is how I got started, and Clare too, I very much recommend it. I will read and watch all of those related stories and videos, though I don't need the inspiration so much myself now. I haven't actually run for a few days though now, I feel like I trod on a pin or something and was hobbling a couple of days ago. Can't see anything and it is improved now, so maybe tomorrow.
I still did some epic walking on it yesterday, the 9k round route to Morrisons, though my watch battery gave out part way. This Garmin watch lasts for ages so I don't always remember to charge it. Also I seem not to have mentioned it here but I did an epic bike ride on Thursday too. We went out for our normal afternoon exercise, riding to Sandgate. Usually I walk and the boys ride, and then home, but this time I took my bike too. I had to go in the shop to look for skimmed milk for Clare, and as they had none in Sandgate, I rode back with the boys, left them at the end of our road to go in on their own, and rode on to Hythe. None their either, nor at the shop at the other end of Hythe, so I rode on to Dymchurch. It was lovely and it's all flat, so a great ride. "Glad it's not windy" I was thinking. Then turned round at Dymchurch and realised there was a breeze, just that it had been blowing me along all the way. So I had to do 15km back again into the wind, gah. Still I eventually found the milk. 30km trip all in.
I was wondering if we'd be able to get a cheap holiday this year, as Greece is opening up to tourists and most people will still not want to travel. But they're not opening up to the UK yet, we're not going to be able to go anywhere.
I have updated my reading list, as I started a new book The Interpretation of Murder. Hope it is good. It is not the big intimidating tome I am putting off starting, maybe next time.
| Author | Book | Thoughts |
| --- | --- | --- |
| Ian Rankin | Westwind?tag=clarkeology-21) | Dated thriller, shame. |
| Ian Rankin | Doors Open?tag=clarkeology-21) | Really good crime caper in Edinburgh but with no Rebus. |
| Suzanne Collins | The Hunger Games?tag=clarkeology-21) | Borrowed from the children, very good. |
| Suzanne Collins | Catching Fire?tag=clarkeology-21) | Hunger Games part 2, read this even quicker, a bit darker. |
| Suzanne Collins | Mockingjay?tag=clarkeology-21) | Hunger Games part 3, joyless and grim. |
| Karen McManus | One Of Us Is Lying | Another one liberated from the children's bookshelf. A Breakfast Club whodunnit, dying to be a film, not at all suitable for a ten year old... |
| Robin Paige | Death at Glamis Castle | Edwardian era mystery written by Americans. I read one of these before. Quite atmospheric, though a little twee. Sort of romance / crime. Written in accents, with plenty of "of the time" attitudes. |
| Jed Rubenfield | The Interpretation of Murder | A charity shop find, one you always see, have had it kicking around a long time. Historical crime fiction again set in New York 1909, featuring Sigmund Freud and Carl Jung. |
Another glorious day today out there. Clare has gone to the supermarket today, thugh under duress. She thinks I should have done it again but I don't want to deny her the experience of queueing for ages in the carpark and being equally annoyed by the people in their masks, and then all the people not wearing masks too.
| Country | cases | deaths |
| --- | --- | --- |
| USA | 1793530 | 104542 |
| Brazil | 468338 | 27944 |
| Russia | 387623 | 4374 |
| Spain | 285644 | 27121 |
| UK | 271222 | 38161 |
| Italy | 232248 | 33229 |
| France | 186835 | 28714 |
| Germany | 183019 | 8594 |
| India | 173491 | 4980 |
| Turkey | 162120 | 4489 |
Glad to see Have I Got News For You and The Last Leg did not lay off Dominic Cummings and his ridiculous bullshit story last night.
Sat May 30 2020...
🚶 4934 steps 15.8% fat
🚶 13:18 Shepway Walking 37'21
I assumed my furlough sabbatical would be up soon, as work would have to start paying for it from July. However it's a phased approach, so the money I'm getting (less than 80% of normal) is all coming from taxpayer funds in July still. Then:
From August, employers must pay National Insurance and pension contributions, then 10% of pay from September, rising to 20% in October.
That from the BBC, so it might still be worthwhile work keeping us furloughed as long as they can.
Fri May 29 2020...
Of course scanning for all the data in the datastore I was using doesn't give you all the data. I was storing a lot more than I thought, so when I said "give me all the data" it missed a few artists, and this affected how players portfolios looked. Fixed now, though I'm one issue behind in my fixing. I tried to fix it by changing to a different data store , and while I've not figured that out yet I've sorted the issue with the original. I'm paying for both at the moment. Good job it's only pennies, though it is pay day today.
Here are the popex top traders of the week!
pauly - £9649.27
brians - £8516.80
tommy - £7847.03
rolymo - £7371.15
delingo - £7027.83
Best performing artist this week:
Michael Jackson +123.7%
Hayley Williams +117.3%
Vera Lynn +115.1%
Oasis +106.7%
Gerry Cinnamon +105.8%
For a pay day treat I walked to Morrisons in the blazing sun, and bought wine, beer, cider, and a few vegetables. No doughnuts today. I have put on a few pounds in lockdown and decided no today, no doughnuts. I definitely would have weakened if I'd got there and they'd actually had doughnuts.
Got home and sat on the balcony to read my book (I will update my reading list in a bit as I just finished it), the weather is truly amazing, and then had a brainwave that fixed popex. And this is where we came in.
Really feels like a Saturday today, like that matters. As it's Friday I'm off to the Inn Doors in a bit, just like the old days. I will get another couple of pints takeaway from them, just to be sociable and support them really, as we have enough booze here to float a battleship.
The kids figured out that one year ago today we were at Volcano Bay in Florida.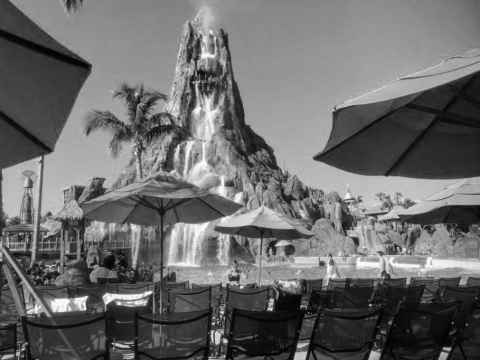 Fri May 29 2020...
🚶 14906 steps 15.6% fat
🚶 12:33 Shepway Walking 40'47
We have a super long and complex email from the school, but the short version is thing one is going back to school on the 8th of June, a familiar looking date... oh yeah it is the poor boy's 11th birthday. We don't need to check his school shoes, trainers are ok, and winter or summer uniform are ok whatever fits. It must be uniform though. He will be back in two days a week only, and not to bring anything in or take anything home. It all sounds quite joyless.
One of our local beaches has been closed, supposedly because of asbestos contamination!
Another lovely hot day here. We've all done Joe Wicks, the boys have argued over homework for a couple of hours and are now playing Brawl Stars again on their tablets. I have struggled with data storage issues for popex, still trying to get it for free. I hope I have an idea for a solution now that will not cost much more money. If I don't fix it, no-one will play anyway. If no-one plays is it worth me fixing it? I should keep my brain active with a puzzle book instead of this nonsense.
Sounds like the appetite among friends for the weekly 8pm Zoom call is waning, other people are busy. I have little to do, what can they be busy with..? What is there to do that I am missing out on?
| Country | cases | deaths |
| --- | --- | --- |
| USA | 1745803 | 102107 |
| Brazil | 414661 | 25697 |
| Russia | 370680 | 3968 |
| Spain | 283849 | 27118 |
| UK | 267240 | 37460 |
| Italy | 231139 | 33072 |
| France | 182913 | 28596 |
| Germany | 181895 | 8533 |
| Turkey | 159797 | 4431 |
| India | 158086 | 4534 |
Thu May 28 2020...
Paul Clarke's blog - I live and work in Hythe near Folkestone, Kent. Married to Clare and father to 2, I'm a full stack web developr, and I do js / nodejs, some ruby, other languages ect ect. I like pubbing, running, eating, home-automation and other diy stuff, history, family tree stuff, Television, squirrels, pirates, lego, and TIME TRAVEL.