Blog ≫ 2008 ≫ Day two in Key West
The next morning, well rested we had a fuller investigate and scoot around the town, down to Mallory Square which along with Duval Street seems to be of the focal points for the town. think this is where we saw our first wild chickens of the week. I'm not sure how this works out really, there is obviously chicken on every menu, but the chickens are a protected species there, and there's a $500 fine for killing one. It's great to see them scrabbling about all over the place, and thinking about crossing the road.
On the subject of menus, you see dolphin on nearly every menu in town too. Apparently this is not actual mammal flipper dolphin, but there's a fish that's also known by this name, hmm, I'm not sure...
Back to Mallory Square, it's a tacky highlight in a fairly tacky town, lots of shit market stalls and things, not really worth going to I wouldn't have said, but probably it's "the town square", and it does have war memorials and things as well as tourists, jugglers, etc. We walked all around the waterfront, saw an humungous cruise ship (they often stop off here, think relatives of mine have been here on / for a cruise ship), and bought some proper sunglasses. So, from this point on you don't see the whites of our eyes in any of the pictures... here's Clare's eyes, and the cruise ship: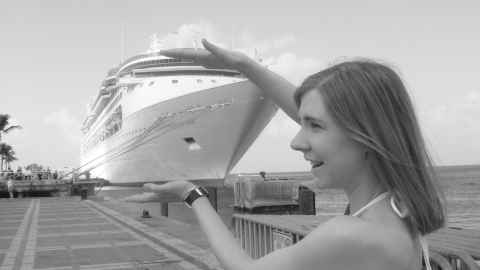 Next stop: lunch. I do remember last time we were in Key West (with Emma and Kevin) we sought out this place The Cafe, "a mostly vegetarian place" as we expected that to be the only place I'd get a decent meal, and this time we went back as soon as we could. There's plenty on the menu, some vegan, some vegetarian and some fish, and best of all it's all big old American diner style food portions. Sandwiches as big as your head, with a side of sweet potato fries, fantastic. I don't really think their drinks menu was the best, I had root beer some days and wine the others, but I'm sure Clare would disagree, she got a taste for their passion fruit mimosas. It's a low key kind of place, with the look of a greasy spoon run by hippies, but it really is good, you should check this one out, particular if you are vegetarian / vegan.
Not sure about that afternoon, more checking out the town I think. That evening we headed to the roof of our hotel to check out the sunset, as is recommended lots of places, as it's the highest point on Key West. All the pictures I'd seen of the bar made it seem very cool and serene, but there was quite a scrum up there already. We went up there a few more times, and it was the same each time, possibly because it was a particularly busy week for Key West. Here's Clare in a quiet bit of the rooftop bar, not long before sunset: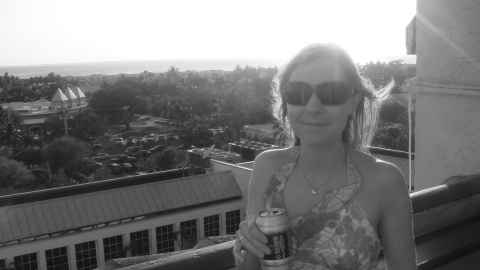 There was live music on the roof, a duo, but then there's live music everywhere on Key West really. We got the phone call we'd been expecting while we were up there to say Kev was coming to collect us; the rest of the family had arrived in Key West, checked into their hotels and we were to go and meet them. Kev, and Dean came to pick us up (unfortunately they didn't have time to come up to the rooftop bar this day) and we went back to their apartments (oh yes, no measly hotel rooms for these high flyers, they had large apartments to share, out by the airport) via Publics, a supermarket. Because the others were travelling with children the plan was that we'd pick up some food and some booze and entertain ourselves back at their apartments.
We had a great time eating, drinking and playing quarters and got a cab back to our hotel in the early hours. I think. I did take the camera along, but took the advantage of using someone's charger back at the hotel, so it was plugged in all night and not in use.
Next day must have been Saturday, which should by all rules of fairness have been the stag do. We talked about it the night before, maybe having a "stag hour" or something, but it wasn't really practical. We all met up again on Duval Street in the morning, Clare and I having some extra time to check out what was going on before everyone else arrived on the shuttle bus. This was one of the big days of the Conch Republic celebrations and there was to be a bed race down Duval; teams of people pushing vaguely bed shaped machines on wheels down the street and being timed, all in the name of charity. So the street was closed off again, and the side streets were extra full of markets and tourists. Very hot this day, so we took shelter in a bar. We did call in for a look in the aforementioned Iguana, but I think there were no seats (quite a small place) so we didn't stop and went to the Green Parrot instead, for a cheeky glass of something or other. This was the bar with saucy pirate mural in the toilet.
The bed racing was good, though it wasn't that comfortable watching it in the crowds, in the heat, with no shelter, in a big party. Some pics of the bed racers, best by far was the woman giving birth...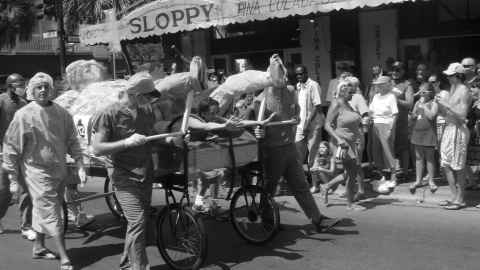 There was a wedding to go to inbetween these two paragraphs, rather the point of the trip, not sure why I didn't write it up. It was lovely, amazing, it was on a boat and there were dolphins swimming alongside.
Last day, we walked to a national park and the beach, nice enough. Then one last lunch at The Cafe, and the proprietor (an ex-pat English) gave me a menu to take away as a souvenir, and to help with writing up a lovely review of the place. Not sure what I'm going to do with the menu now actually. For our final stop we picked a bar we'd walked past every day and sat and had a glass of wine, until it was time to taxi to the airport.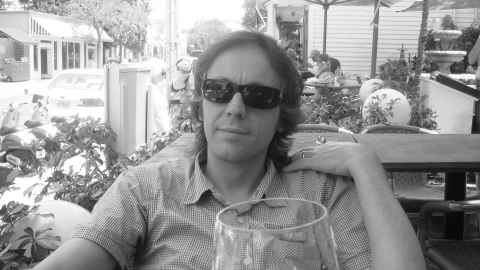 If you're ever flying out of Key West, home say, don't imagine that you need to turn up three hours in advance as you would when flying to America from here. As previously mentioned, it's practically one man mango stall. The departures bit is slightly more involved than arrivals, but not hugely. There was no queue to check in, AND our flight was delayed, so we into the bar and spent our remaining dollars on drinks and snacks for the next three hours or so. At least there is a bar, and it is quite a nice place to hang out, windows all round looking out on to the runway, so you can see the planes up close.
We came into Heathrow on the way back, which I don't like, it's too far. Heathrow Express was dreadful on the way back; we're writing for a refund. Everything's been disrupted for terminal 5, so after buying our "express" tickets for 15.50 each, we had to wait half an hour at terminal 4 for a train to terminal 3, then change on to the express, which then crawled into London as slow as if we'd got the regular stopping train all the way. It's just not worth paying any extra for the express any more I don't think, Next time I'm going to do a Tony.