Running at work at lunch today for the first time
Running at work at lunch today for the first time
Going out running at lunch today, should be just a gentle 5k though. Haven't done this before, it's a bit of a faff bringing extra stuff and towel and thing into work. If I go running at lunch when I'm working at home I can just sit and cool down without a shower, but we have showers at work so best for everyone if I use it.
Sustainability week continues at work, after the farmers' market yesterday. Today we have a VW dealership in with an electric Golf, I did not book a test drive though.
Clare and thing two went to checkout Brockhill school yesterday. He was impressed with a fun science demonstration they did, setting fire to some gas filled bubbles in his hands.
I dragged thing one out to a Chinese takeaway, I had a yearning for that for my tea. We went to Wok Express and I know it is not good and I should not have done it. It was a toss up between running on the treadmill or getting a takeaway, why did I choose that? And I have some left that I have to eat for my lunch today. At least we're doing the run first.
Enjoying this I hope parliament does get recalled, and they rub Boris Johnson's nose in the mess he has made.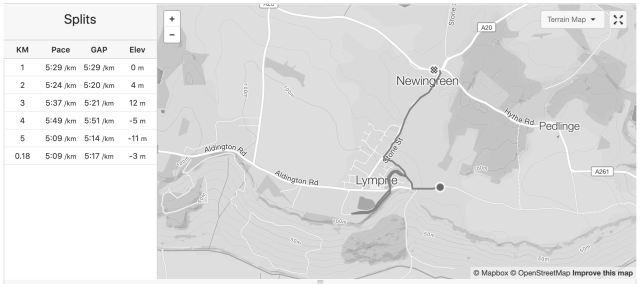 Wed Sep 11 2019
Paul Clarke's weblog - I work and live in Hythe near Folkestone. Married to Clare and dad to two, I am a full stack software engineerelopr, and I do js / nodejs, some ruby, python, php etc. I like pubbing, parkrun, eating, home automation and other diy stuff, history, genealogy, Television, squirrels, pirates, lego, and TIME TRAVEL.