PopEx ≫ 2004 ≫ Insane in the 'Chain
GLC Pictures inside!
I muchly enjoyed Goldie Lookin' Chain1 at Metro last night, here is a picture: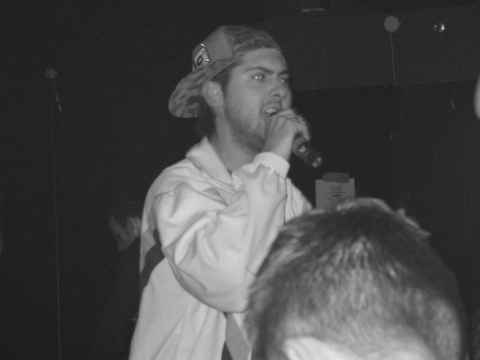 The band righteously rocked the Metro, a crowd quite evenly split between fans, industry and friends. Highlight for me was "Metal", a rock pastiche laid over a mighty looping AC/DC riff, but it was great to hear all the favourites from "The Manifesto" and other albums, in the live arena as it were.
Good also to put faces to some of the voices. I thought Adam Hussain would be taller.
If you're lucky enough to have tickets to one of The Darkness' rescheduled shows, get their early, don't miss this phenomenon. They've even been playlisted by sbn.co.uk2 and rumour has it there's a BBC documentary in the offing. Catch them quick before it stops being funny, there are possibly tickets available for these forthcoming shows:
If you'd like to know when Goldie Lookin' Chain tickets become available click here if you're a popex member or join up here (it's free), pick Goldie Lookin' Chain as your favourite band and say "yes" to the gig mail... Then you'll receive a mail as soon as tickets go on sale.
This content originally from my very popular (in the late '90s) site popex.com. Parts were contributed by other people, so mainly originally created by me. I shifted this content here when the website eventually shut down in the early '00s. Hopefully this brings back memories assuming you find it.