PopEx ≫ 2000 ≫ Free Graham Coxon
Hear his new album for free, on the modern interweb...
You can hear tracks from Graham Coxon's new album - The Golden D - on his website.
Go to www.transcopic.com to hear samples of all 12 tracks...
Graham's mini tour (where he'll be playing with Blur Buddy Dave Rowntree) in support of this new material is SOLD OUT, and is going to be a STORMER... Let me know if you're going, and you can buy me a pint.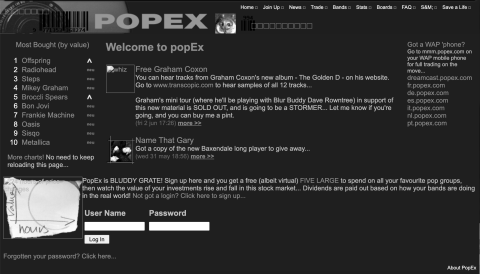 This content originally from my very popular (in the late '90s) site popex.com. Some of this written by other people, so mostly editorial originally created by me. I moved the content here here when the website finally shut down in the early 2000s. Hopefully this ignites memories (if anyone sees this).