Placebo, Queens of the Stone Age, Slipknot, Gorky's, Foo Fighters, Ween, Primal Scream, Daphne and Celeste, JJ72, SFA, And You Will Know Us By The Trail Of Dead, At The Drive In...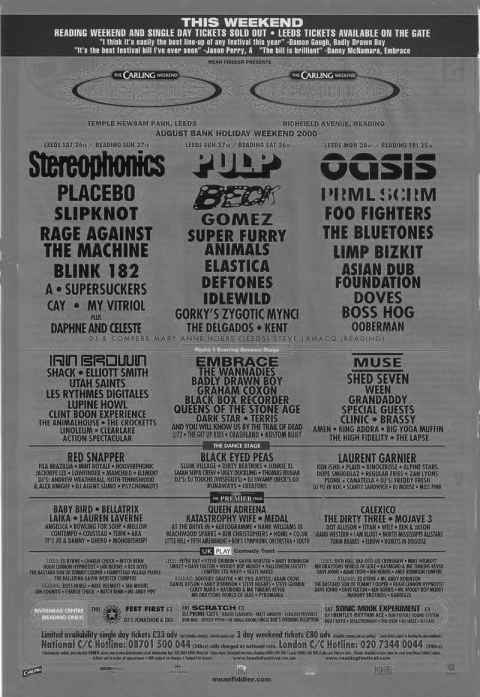 I was on a freebie from Uncle Bob's, did I not watch the headliners at all? I don't remember many of the bands off the poster, no Oasis, Pulp, Rage Against The Machine etc. Was I just way too cool? Is this one of the years we booked a hotel too?
💬 Want to see Pulp's secret gig?
💬 And You Will Know Us By The Trail Of Dead @ The Barfly
💬 Haven't had one of these for a while...
💬 Free Reading / Leeds Tickets
💬 Coldplay and JJ72 on TV tonight
💬 Jongo
💬 Reading Present (and correct)
💬 That french bloke who runs the millennium dome
💬 Uncle Bob's Reading Reception
💬 Let the punters write all the news...
💬 Uh, can't think of an "Elastica in Kings Cross" pun...
I was at this one, more from this year in Paul's gig history for 2000. Part of every gig I was at from '87 to 2023. It's an obvious step from my Best Gigs Ever blog post. Yeah I know it's very nerdy, let's let that go though, I'm enjoying reminiscing about this stuff.
Fri Aug 25 2000